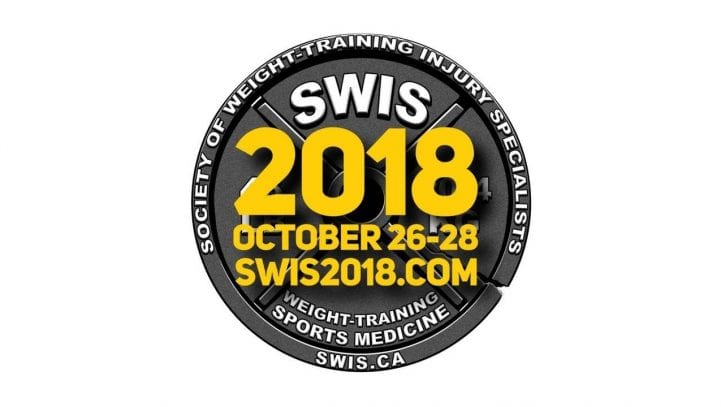 Rick Collins to Present the Latest Information on Fitness and PED Law at Upcoming 2018 SWIS Symposium
Rick to Address Legal Issues Impacting Fitness Professionals and Trainers at Annual Meeting of the Society of Weight-Training Injury Specialists in Mississauga, Canada
Rick Collins will once again be a featured presenter at the annual meeting of the Society of Weight-Training Injury Specialists (SWIS) in Mississauga, Canada – where he will be presenting the latest information for fitness professionals on performance enhancing drugs and the law, as well as sharing insight into the most critical legal issues facing personal trainers and strength/conditioning professionals today. This will be the third time that Rick, a former competitive bodybuilder, fitness trainer and a Certified Strength and Conditioning Specialist, will be a speaker at this symposium – with his past presentations being attended by top fitness professionals from around the world.
The 2018 SWIS Symposium will be taking place from October 26 – October 28th, and will be attended by hundreds of personal trainers, chiropractors, massage therapists, nutritionists, strength and conditioning coaches, powerlifters, bodybuilders, gym owners, industry thought leaders, and key industry influencers from around the world. Rick's presentation, Fitness and Performance Enhancing Drug Laws, will discuss the latest Canadian news surrounding steroid cases and the law, as well as present information about steroid laws and cases in the United States. In addition, he will be presenting a comprehensive overview of anabolic steroids and the law in both the U.S. and Canada, and discuss U.S. and Canadian regulation of steroids as well as new steroid legal guidelines. His presentation will also address legal and regulatory issues surrounding other PEDs, as well as discuss the current timely topic of SARMs and SARMs legislation.
The Society of Weight-Training Injury Specialists is focused on the prevention, treatment and rehabilitation of weight-training injuries. The organization is dedicated to the prevention and treatment of weight-training injuries and creates educational opportunities to help access the top training and treatment protocols. Each year, the SWIS Symposium features more than 30 presentations by expert speakers from around the world, as well as numerous exhibitors – and is attended by more than 600 trainers, doctors, specialists and practitioners.
If you are planning to attend the 2018 SWIS Symposium, please make sure to attend Rick's presentation on Saturday, October 27th, and seek him out to say hello. In addition, if you'd like to set up a time to meet with Rick while at SWIS, or if you have any questions regarding anabolic steroids, PEDs, SARMs, and the law, call 516-294-0300 or email Rick at [email protected].